Early Warwickshire Maps
Image: The 'Anonymous' map of Warwickshire Printed by John Overton of London. The date on it is 1603; it is a copy of Saxton's map, with additions and corrections. North is at the top, and there is a scale.
Image from: Local Studies and History, Birmingham Central Library
Map-makers often used older surveys, and map-engravers often re-used plates of older maps which they had acquired. In the 1670s John Ogilby complained of pages being pirated; the printers Bassett and Chiswell 'Have Rob'd my Book'. Copying was not always intellectual theft, in some cases printers purchased plates of older maps, and re-issued maps with minimal alteration. An 1818 Warwickshire map betrays its descent from Dugdale's 1656 map through generations of copies; in the Explanation it still lists 'Garrisons for the King', 'Garrisons for the Parliament', although it was now 170 years since the Civil War
The 'anonymous' map is one of a series of twelve county maps which first appeared in 1603. They were probably by William Smith, antiquary and then herald. Some were produced in Amsterdam. A second imprint 'Series of Anon County Maps' was produced by Peter Stent in London in 1650. This particular imprint was 'Printed and sould by Io: Overton overagainst St. Pulchers church'. John Overton had acquired stock and presses from Peter Stent in 1665. The imprint was issued at some time between 1668 and 1707 by him in sets of county maps, which included the anonymous series, and maps by other mapmakers. His son Henry Overton was to reissue the anonymous series in 1708.
Saxton's map of Warwickshire and Leicestershire together had been printed in 1576. Additions and changes to Saxton's map are described in Latin.
"WARWICK COMITATUS DESCRIPTIO Quam primus aedidit Christophorus
Saxton, Anno 1576. Nunc de integro correcto, aucta, et restituta. Cui adduntur (praeter 60. locos qui priore desiderabantur) Singula Hundreda, Viae notiores, in usum itinerantium accomodatae: et alia infimae notae nonnulla. Anno 1603"
About sixty places had been added to the Saxton map as had 'better-known' roads and the hundreds boundaries. The hundreds were administrative subdivisions of counties in Anglo-Saxon England, and had existed since the tenth century. The names came from the agreed meeting-place, often remote from any settlement. Birmingham was in Hemlingford hundred – Hemlingford, until replaced by a bridge, was a ford over the River Tame near Kingsbury.
Statistics in Latin show: 13 market towns, 158 parish churches, 7 rivers and 11 bridges. Only the two most important cities, Coventry and Warwick, are named.
Place-names are in English. Spellings were not consistent at this time. On seventeenth century maps Birmingham is written variously as Brimingham, Bermicham, Bromwychm. Aston is described as 'Bermichams Aston'.
« Previous in this section
Next in this section &raquo
Continue browsing this section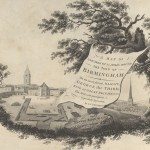 Maps and Map Making: the West Midlands Experience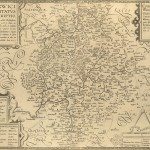 Early Warwickshire Maps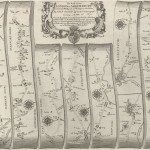 The First Road Maps, John Ogilby, 1697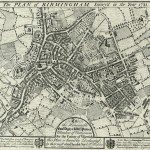 William Westley's Plan of Birmingham, 1731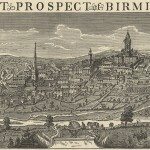 William Westley's Prospect of Birmingham, 1732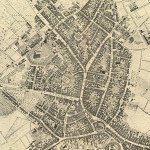 Birmingham in 1751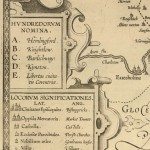 Keys and Explanations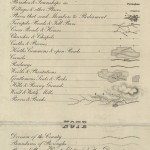 Keys and Explanations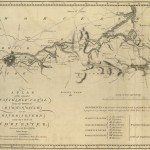 Canal Maps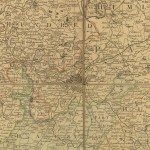 Birmingham and the Country Around, 1798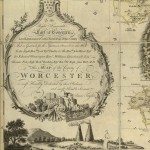 Cartouches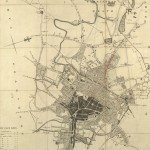 Birmingham in 1810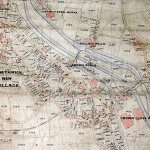 Tithe Maps