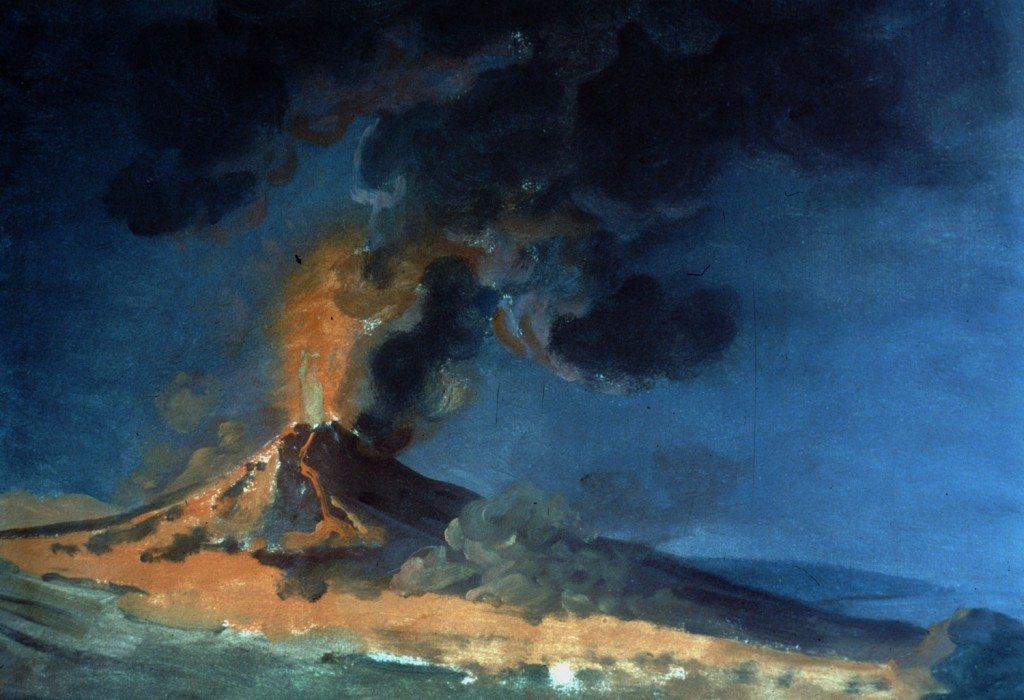 Eruption of Mount Vesuvius (1774)
1734 - 1797 (c.)
Image Joseph Wright of Derby (1734-1797). Gouache on paper
Image from: Derby Museum & Art Gallery
Mount Vesuvius held a special attraction for Wright. He painted it over thirty times and during his Italian tour he created several pen and ink and chalk studies. This painting in gouache (watercolour with the addition of white to add body) is one of Wright's most striking images. Set against a deep-blue sky, flames illuminate and fumes darken the volcanic landscape. Streams of lava erupt from the mountain's cone and cascade down its desolate slopes of to form a river of molten fire. There can be few more powerful visions of the forces contained within the earth.
Joseph Wright was an eyewitness to the mountain's volcanic eruption and wrote excitedly to his brother:
"When you see Whitehurst, tell him I wished for his company when on Mount Vesuvius; his thoughts would have center'd in the bowels of the mountain, mine skimmed on the surface only; there was a very considerable eruption at the time, of which I am going to make a picture. 'Tis the most wonderful site in nature." 5
Wright was a long-standing friend of the Lunar Society figure, John Whitehurst who was also a native of Derby. He painted Whitehurst in the early 1790s and included Vesuvius in the background to represent the latter's geological interests. In 1778 Whitehurst published, An Inquiry into the Original State and Formation of the Earth.
A volcano and mountainous terrain also appear in Wright's painting The Widow of an Indian Chief watching the Arms of her deceased Husband (1785). They resemble the drawings of Vesuvius and its adjacent landscape, which he composed in 1774. They are held at Derby Museum & Art Gallery.
5 Quoted in Derby Art Gallery, Joseph Wright of Derby (Derby Museums & Art Gallery, 1979), p 6.
« Previous in this section
Next in this section &raquo
Continue browsing this section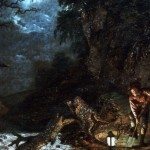 Joseph Wright of Derby and his Visit to Italy 1773 – 1775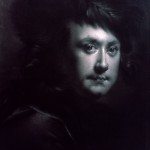 Joseph Wright's Journey to Italy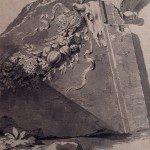 Study of Fragment of a Classical Frieze, Rome (1774)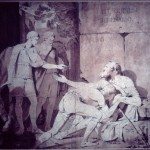 Belisarius receiving Alms (1775)
Girandola with St Peter's Rome (1774/5)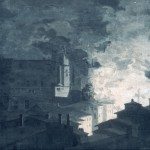 Fire in Rome (1774)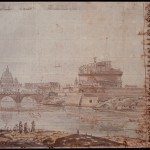 A Letter from the Artist in Rome, including Sketches of the Castel Sant' Angelo and Saint Peter's (1774)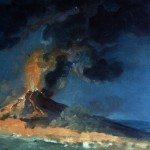 Eruption of Mount Vesuvius (1774)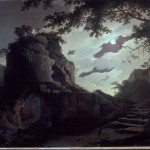 Virgil's Tomb (1782)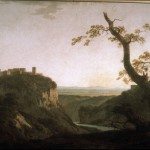 A View of Tivoli (c1783-86)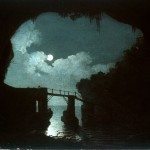 Bridge through a Cavern, Moonlight (1791)