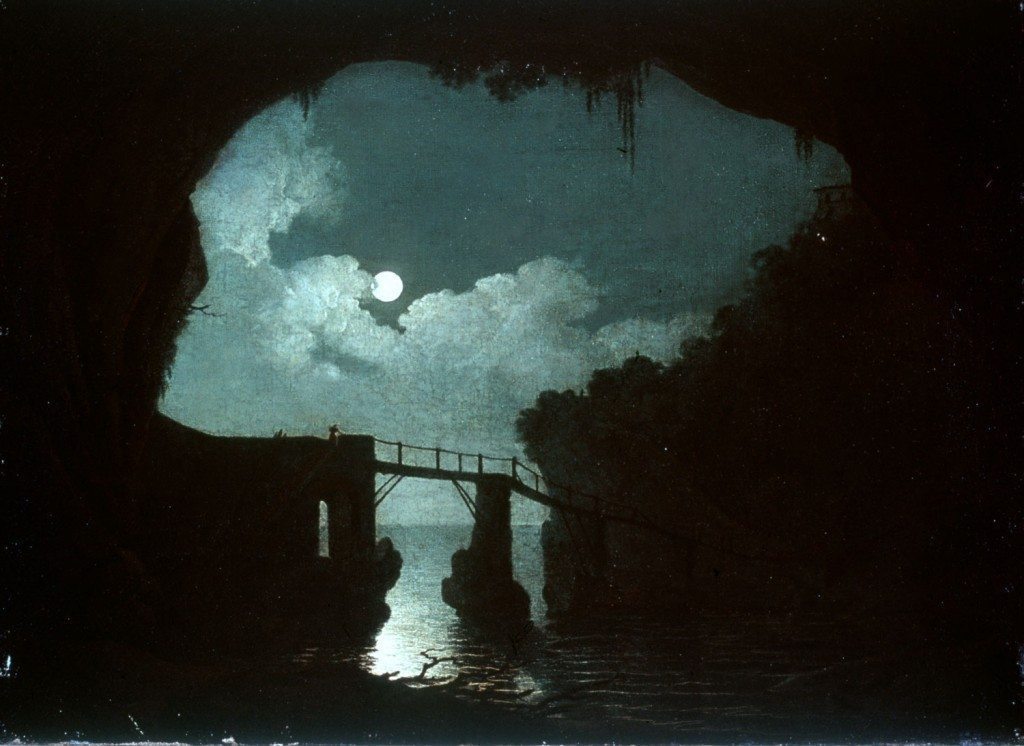 Bridge through a Cavern, Moonlight (1791)
Image: Joseph Wright of Derby (1734-1797), Oil on Canvas.
Image from: Derby Museum & Art Gallery
Wright visited Naples in 1774 and discovered dramatic scenery in the caverns and grottoes on the sea-shore. The places he saw seem to have influenced several of his later landscapes, not just those devoted to Italian subjects.
In Bridge through a Cavern, Moonlight, the bridge bisects the space between the dark, confined interior of the coastal cavern and the illuminated expanse of sea, sky and clouds beyond. At the same time it frames the reflected light of the full moon, which plays upon the ripples linking the sea outside and the shadowy pool within the cavern.
Landscape with a Rainbow (1794) and Rydal Waterfall (1795) represent English scenes, but are similar in composition and subject matter to Bridge through a Cavern, Moonlight. 
« Previous in this section
Continue browsing this section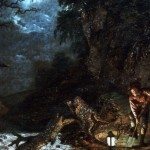 Joseph Wright of Derby and his Visit to Italy 1773 – 1775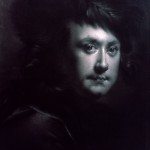 Joseph Wright's Journey to Italy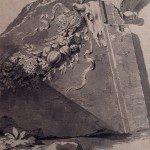 Study of Fragment of a Classical Frieze, Rome (1774)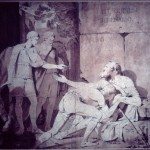 Belisarius receiving Alms (1775)
Girandola with St Peter's Rome (1774/5)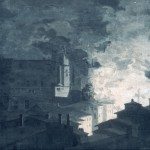 Fire in Rome (1774)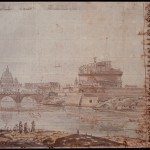 A Letter from the Artist in Rome, including Sketches of the Castel Sant' Angelo and Saint Peter's (1774)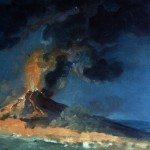 Eruption of Mount Vesuvius (1774)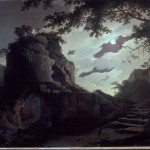 Virgil's Tomb (1782)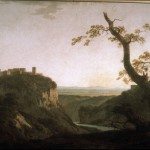 A View of Tivoli (c1783-86)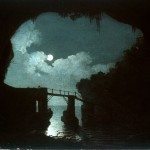 Bridge through a Cavern, Moonlight (1791)