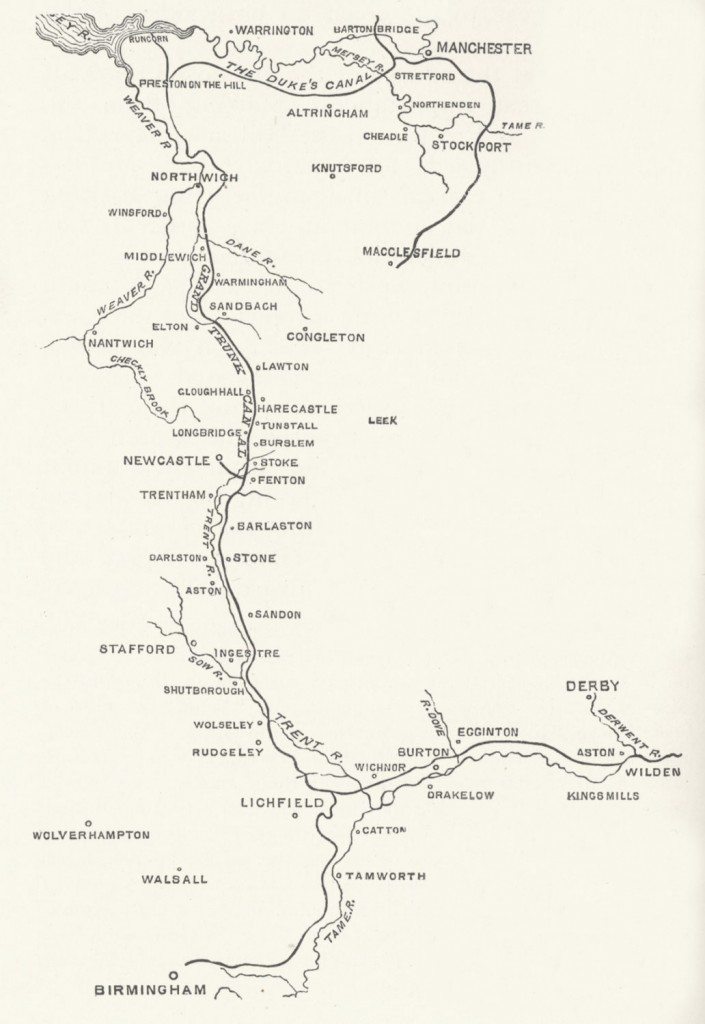 Granville Leveson-Gower: Industrial and Commercial Entrepreneur
Image: Route of the Trent and Mersey Canal. Samuel Smiles, Lives of the Engineers: Vermuyden, Myddleton, Perry, James Brindley (London, John Murray, 1904).
Image from: Private Collection
The role of large landowners in canal projects was crucial as it was necessary to get Bills through Parliament to enable them to proceed.  In 1758 Earl Gower had employed James Brindley to survey a canal between the Trent and the Mersey.  The Earl himself opened the meeting in December 1765 where promoters, including Josiah Wedgwood, decided to petition Parliament for the Trent and Mersey Bill.  As the Derby Mercury on 17th January 1766 reported, he declared: "his Determination to support (the canal) with all his Interest, both Provincial and Political". Earl Gower was also a shareholder in the enterprise.
The Earl constructed the Donnington Wood (or Pave Lane) Canal on his Lilleshall estate in order to transport coal, lime (used for building and as a flux in blast furnaces, as well as being converted into fertiliser for agricultural purposes) and ironstone which were all mined on the estate.
As Lord Stafford he also invested in the Shropshire canal (1787) and the Shrewsbury canal which provided communication links for his works at Lilleshall and Ketley.
From 1760 at both Trentham and Lilleshall mining expanded significantly.  In 1764 the Earl formed a company "Earl Gower & Co.", with his agents Thomas and John Gilbert.  In 1786 it became 'Lord Stafford &Co.' and later other industrialists were persuaded to join what was then known as "The Lilleshall Co".
The Earl also invested outside his estates, joining with the Duke of Bridgewater and the Earl of Carlisle to mine lead and silver at Alston Moor in Cumberland.
« Previous in this section
Next in this section &raquo
Continue browsing this section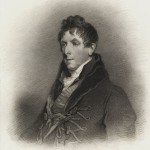 Aristocrats and the Industrial Revolution: The Leveson-Gowers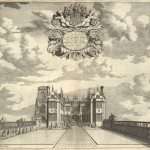 Granville Leveson-Gower, 2nd Earl Gower, Marquis of Stafford (1721-1803)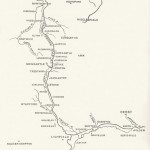 Granville Leveson-Gower: Industrial and Commercial Entrepreneur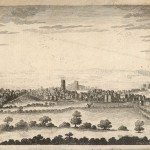 Granville Leveson-Gower: Political Career and Influence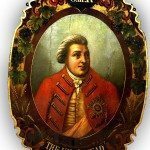 Granville Leveson-Gower: Political Career and Influence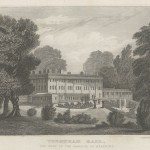 George Granville Leveson-Gower, 2nd Marquis of Stafford, 1st Duke of Sutherland (1758-1833)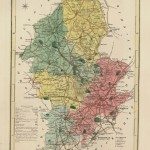 George Granville Leveson-Gower: Political Career and Influence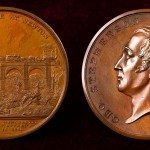 George Granville Leveson-Gower: Economic Importance