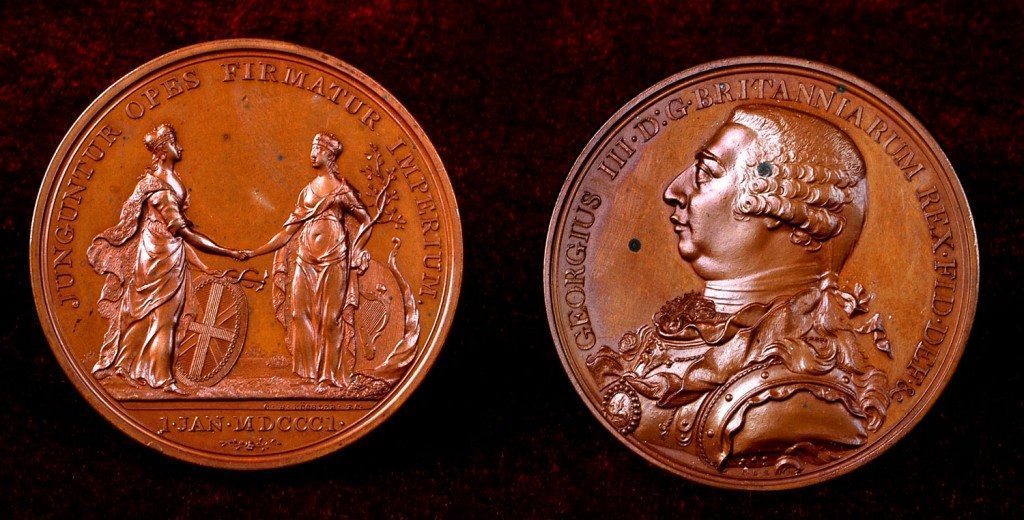 Matthew Boulton and Medal Making
Image: Medal commemorating the Union of England and Ireland. 1801. Designed by Conrad Heinrich Kuchler. Britannia shakes hands with Hibernia with a seascape in the background. The bust of George III is on the right.
Image from: Birmingham Assay Office (31)
In 1789, Matthew Boulton wrote to one of his correspondents that the art of medalling was one of the most backward in England, and had made the least progress of any during the reign of his present majesty 1. Turning his interest to the art of the medal, Matthew Boulton begun by executing a fine medal commemorating the King's recovery in 1789, after his year-long episode of madness. The success of the next medal marking the King's preservation was such as to induce Boulton to pursue this line of business, not only for profit, but for promoting Soho and increasing its reputation.
Following this success, Boulton employed various designers and engravers for medals, at first the French artist J P Droz (1746-1823), whose employment proved not to be satisfactory, and then German medallist C H Kuchler (c.1740 – 1810).
His life and work are described in detail in the article by J G Pollard "Matthew Boulton and Conrad Heinrich Kuchler", The Numismatic Chronicle, Vol.X, 1970, p.259-318
Conrad Heinrich Kuchler had worked in Darmstadt, Mannheim and Frankfurt-am-Main, between 1763 and 1777 and then moved to the Low Countries. He arrived in England as a refugee from the French invasion and settled in London. Some of Kuchler's medals were shown to Matthew Boulton in 1793, and though he was not particularly impressed by them, he offered Kuchler a generous contract for engraving dies for medals. In 1795 Kuchler moved to Birmingham. He became the designer of medals and coins on many subjects which were struck at Soho Mint at the end of the 18th and the early 19th centuries, including items on Russian subjects. Although in 1802 he had left Birmingham for a short time, he soon returned back, and his name is now mainly associated with Soho. In the end he had worked for Boulton for almost 17 years, and died and was buried at Handsworth.
In the printed List of Medals and Coins struck at Soho Mint, Staffordshire2, in the section of medals, among other works, four items on Russian subjects are mentioned:
Emperor of Russia,
General Suwarrow on his success in Italy,
Empress Catherina of Russia,
Emperor Alexander of Russia.
The list is not arranged chronologically. The first and the last ones are probably variants of the same specimen. Examples of the medals are quite rare, but can be found in several collections, including the State Hermitage, the British Museum and the Birmingham Assay Office.
The work on Russian themes coincided in time with Boulton's design and erection of the Mint for St Petersburg, which took him almost ten years to complete.
It seems that Boulton was well acquainted with Russian medallic art, as among presents from Russia received by him was a set of Russian medals. His son John Phillp, visiting London in June 1802, wrote in his diary: "Went with Mr Chippendall to Mr Young the medal seller in Ludgate Hill. He has a fine and well chosen collection of medals of all descriptions. … I saw a collection of Russian medals, the same, as Mr Boulton had presented to him from the Emperor of Russia. He asks 50 [guineas] for the set." 3. It is not clear which Emperor of Russia Phillp meant. It might have been either Paul I, or Alexander I, but it explains the sources for the portraits of such Russian personalities as A.V.Suvorov, or Catherine the Great.
1 Smiles S, Lives of Boulton and Watt (1865), p.395.
2 Birmingham City Archives, MBP, Soho Mint, No 416.
3 Birmingham City Archives, Phillp's Diary 1802
« Previous in this section
Next in this section &raquo
Continue browsing this section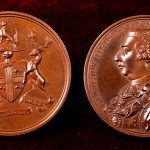 Matthew Boulton's Medals and Coins on Russian Subjects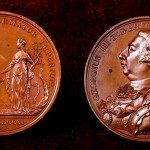 Matthew Boulton and Medal Making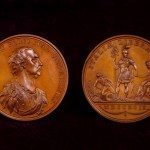 The A.V. Suvorov Medal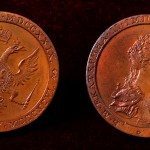 Catherine the Great's Medals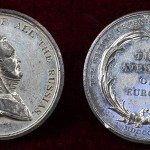 Medals and Coins of Alexander I