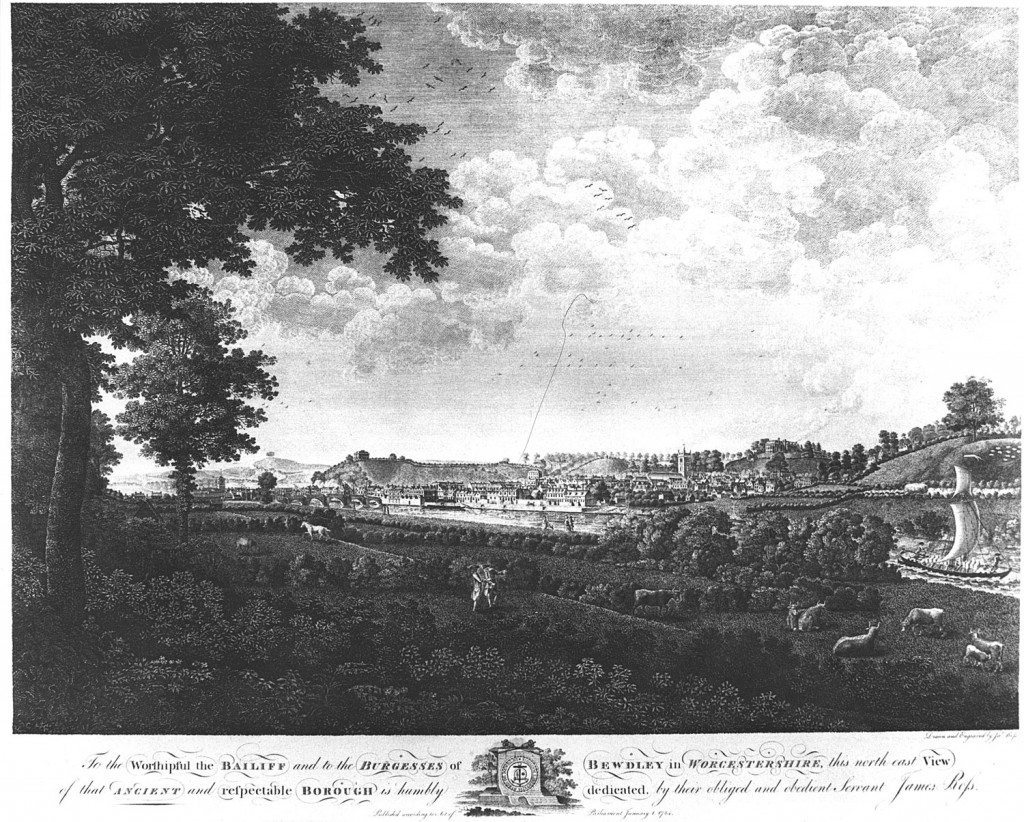 Woodland Industries in the Wyre Forest
Image: Northeast View of Bewdley by James Ross (1784).
[Image from: Bewdley Museum.]
Although the print should not be taken as an accurate historical record, it does show aspects of the Wyre Forest which contributed to the areas industrial importance:
• Bewdley's wooded environment;
• the River Severn;
• the third Bewdley bridge;
• evidence of town's commercial significance as a port.
Summary: Studies of industrial history in the 18th and 19th century largely focus on coal, iron, engineering – the heavy industries – or others such as textiles, brewing and ceramics. These studies have affected our understanding of the English Industrial Revolution. We see it located in a few industrial locations: the Black Country, the Ironbridge Gorge, the coalfield in the Northeast, Birmingham, Manchester, Leeds, Sheffield and London. Although large-scale mining, blast furnaces and factory-based industrial production were features of the period, there are other dimensions to industrialisation. These large industries and the people who worked in or profited from them required other manufactured products. The woodlands of the Wyre Forest near Bewdley in Worcestershire provided an important location for some of these industries. These included:
• Charcoal Burning. Wood was slowly burned to produce charcoal which was used in smelting and other manufacturing processes, long after the discovery of coke smelting by Abraham Darby in the early 18th century.
• Bark Peeling. Bellows, gloves, shoes, saddles, harnesses and other goods were produced from tanned leather. Tanning required vegetable tannin, which was extracted from tree bark to turn "raw" hide into useable products.
• Snuff Making. The demand for snuff rocketed in the 18th century. It was processed close to Bewdley, from tobacco which was transported along the Severn from Bristol after being imported from overseas.
These industries are explored in three separate parts. Most illustrations are taken from images which are located in Bewdley Museum and accompanying text is used to provide a historical context and describe manufacturing processes.
Next in this section &raquo
Continue browsing this section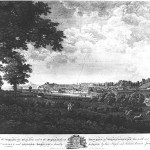 Woodland Industries in the Wyre Forest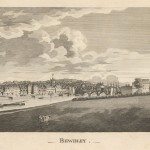 The Wyre Forest and Bewdley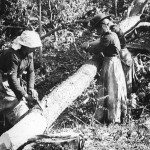 Bark Peeling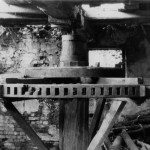 The Making of Snuff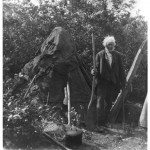 Charcoal Burning in the Wyre Forest