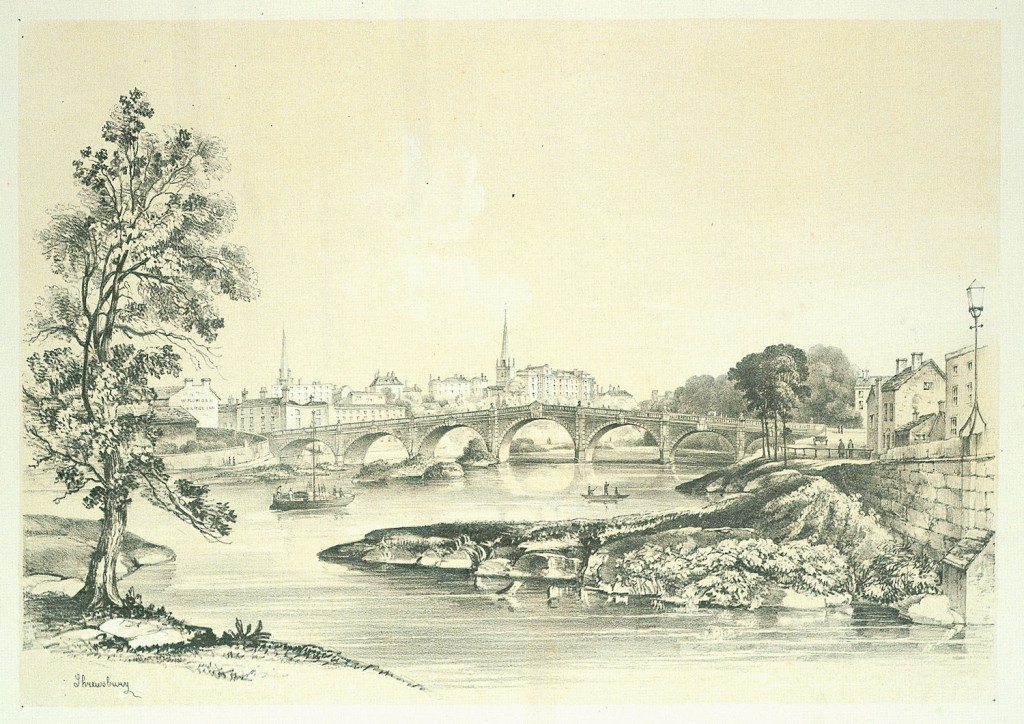 Shrewsbury
1830 - 1840 (c.)
Image from: Bayliss, Rev J C, Views in Shropshire (c. 1839). Shropshire Archives.
SHREWSBURY, the capital of Shropshire, is situated near the centre of the county. It is a large and handsome town, standing in five parishes, and containing as many churches and several chapels of ease. The antiquity of the town is great: it was built originally of the ruins of the Roman city Uriconium, about four miles distant, now a small village called Wroxeter, where a portion of the ancient wall still stands, and where are frequently found Roman coins and antiquities. The ancient name of Shrewsbury was Pengwern; by the Saxons it was afterwards called Scrobbes Berig from the shrubs that grow about it, whence sprung its present name. The town is pleasantly situated on a hill, nearly surrounded by the Severn, over which are two handsome stone bridges, one of which, the English Bridge, is represented in the drawing. Shrewsbury was a place of great note in the Saxon time, having been the residence of some of the kings; at the conquest it was granted by WILLIAM the Conqueror, with the title of Earl, to ROGER DE MONTGOMERY, who built a castle on the north side of it, where the Severn that encompasses it on all other sides leaves an opening. His son ROBERT built a wall across this isthmus (when he revolted from HENRY the First), and thus completed a defence almost impregnable. Part of the castle is seen near the centre of the drawing in the distance.
The same ROGER founded also, and endowed here, a Benedictine monastery, into which when old age came upon him, he retired as a monk, and when he died he was interred in its church. The remains of the abbey church are still considerable; its western window magnificent and delicately beautiful. Of that part of the abbey inhabited by the monks, little now remains; but the pulpit of the refectory, an elegant stone structure, still exists, and is a fine specimen of gothic sculpture. This abbey at its commencement was not richly endowed, but afterwards became so rich that the Abbot was mitred, and sat in parliament.
The old churches of St. Chad, St. Alkmund, and St. Mary, were of a date prior to that of the abbey, having been founded in the years 780, 900, and, 980.
The handsome Grecian building on the right of St. Mary's is the Infirmary, lately erected.
It would be impossible in this short sketch even to name a tenth of the objects of interest in this town; it teems with them; its whole ground and neighbourhood are eventful: and since the pen of SHAKESPEARE recorded the famous battle between HENRY the Fourth and HARRY PERCY; when GLENDOWER'S spirits failed to come at his command; and PERCY fell, when FALSTAFF fought "a long hour by the Shrewsbury clock," beneath its walls; it has become classic ground.