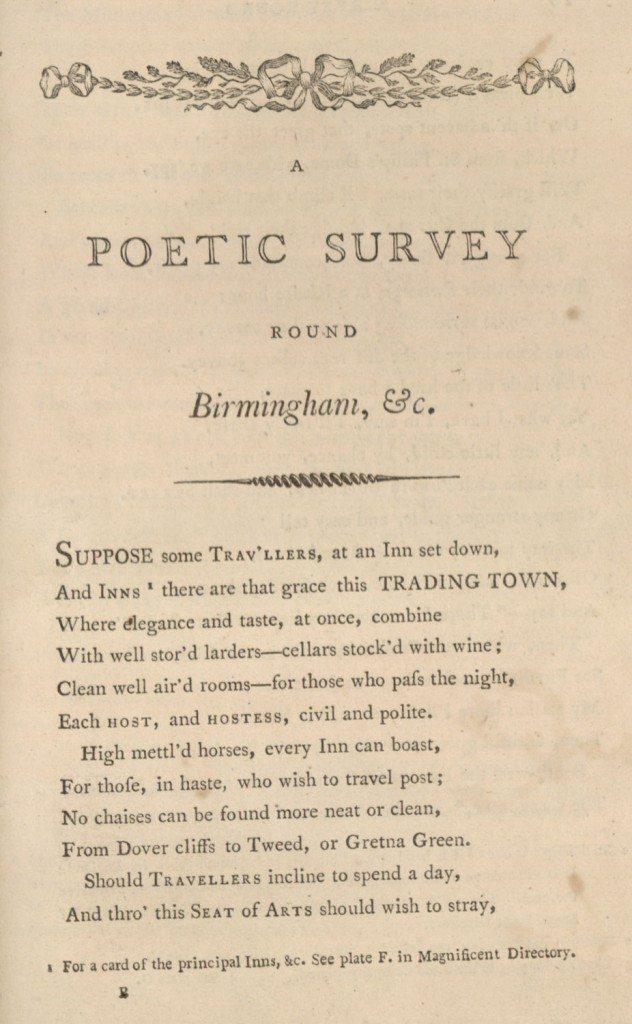 Poetic Survey Around Birmingham
1790 - 1810 (c.)
POETIC SURVEY ROUND Birmingham, &c.
————————-
Poetic Survey Around Birmingham
Suppose some TRAV'LLERS, at an Inn set down,
And INNS1 there are that grace this TRADING TOWN
Where elegance and taste, at once, combine
With well stor'd larders – cellars stock'd with wine;
Clean well air'd rooms – for those who pass the night,
Each HOST and HOSTESS, civil and polite.
High mettl'd horses, every Inn can boast,
For those, in haste, who wish to travel post;
No chaises can be found more neat or clean,
From Dover cliffs to Tweed, or Gretna Green.
Should TRAVELLERS incline to spend a day,
And thro' this SEAT OF ARTS should wish to stray,
1 For a card of the principal Inns, &c. See plate F. in Magnificent Directory.