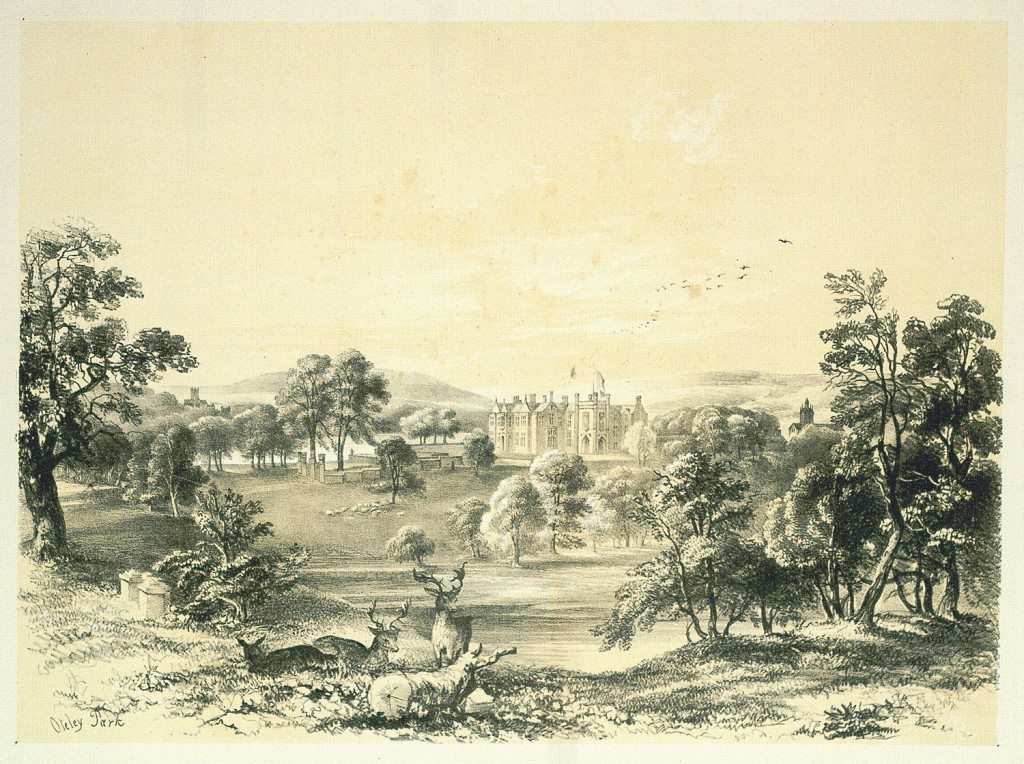 Oteley Park
1830 - 1840 (c.)
Image from: Bayliss, Rev J C, Views in Shropshire (c. 1839). Shropshire Archives.
The magnificent building which forms the principle subject in this drawing, is the property and residence of CHARLES KYNASTON MAINWARING, Esq, by whom, in 1827, the old family mansion, which was once a fine specimen of timbered building, was taken down and the present structure commenced. It is delightfully situated on the western bank of the large lake which gives name to the town of Ellesmere, and is richly and most elaborately adorned within and without with exquisite carvings in stone and oak. The finest taste has been displayed in setting off to advantage the beauties with which nature has abundantly supplied the vicinity: many picturesque openings have been made from the terrace towards the mere, giving at every step a new character to the scene almost enchanting. Some fine old trees in the park are objects of great interest to the artist, and subjects worthy the noblest pencil. Many drawings of the subject of the present sketch may be made with equal judgment and beauty from the park, the terrace, and the opposite banks of the mere, in each of which its architectural and picturesque beauties would be shewn to advantage.
The present drawing is taken from an elevated spot in the park, and embraces the house, the mere – which is three miles in circumference – with part of the town of Ellesmere lying on the opposite bank in full view from Oteley, and the mountains of Llangollen in the distance.
Ellesmere is a picturesque and interesting town. The church is a fine old stone building, situated on rising ground overlooking the town and mere; it contains some venerable antique monuments, and a splendid modern stained glass window, of excellent workmanship. From the upper entrance into the church-yard is a most delightful view of the ancient church, in part overgrown with ivy, having for a background the mere and Oteley park.
Closely adjoining, but higher in situation, is the site of the ancient castle: like that of Bishop's Castle it is now a bowling green. The prospect from it is very diversified, extensive, and pleasing.
Ellesmere has a large and commodious town-hall, built at the expense of the benevolent COUNTESS OF BRIDGEWATER.
Hardwick, the seat of the REV. SIR EDWARD KYNASTON, is in the near vicinity of Ellesmere. Other elegant mansions are within a short walk of the town, and many delightful excursions may be made to visit the numerous meres that glitter in almost every direction through the thick foliage that most frequently borders them.