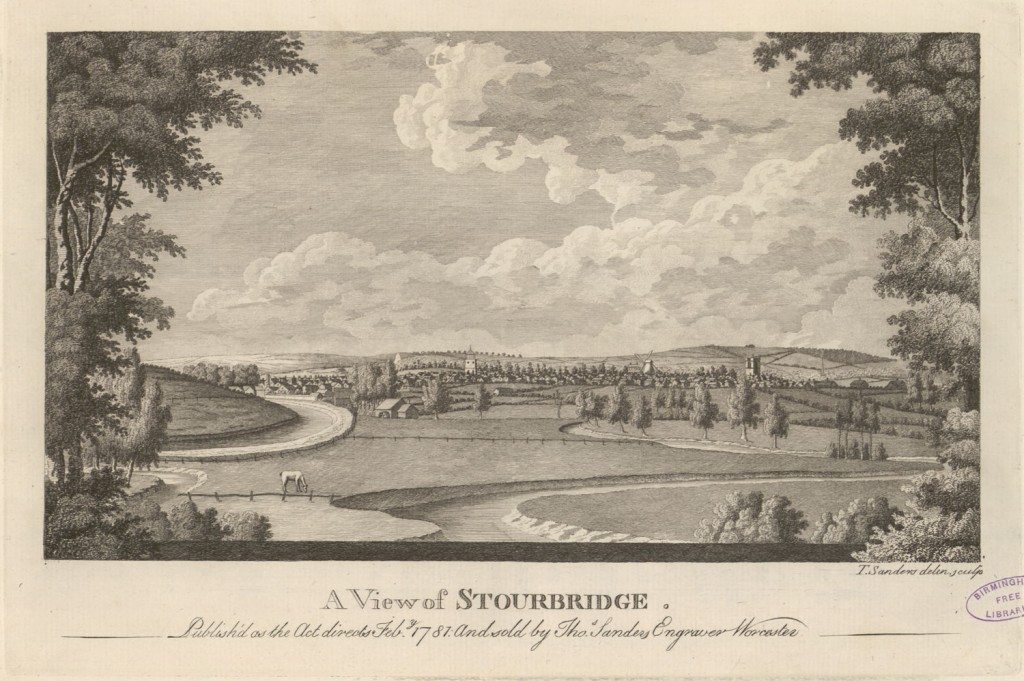 A View of Stourbridge
1770 - 1790 (c.)
STOURBRIDGE
HAS its name from the bridge built over the river Stour: It is not a town of great antiquity, probably not older than the reign of Henry VI. Of late it is very much increased; for in the fifth year of Queen Elizabeth's reign, Old Swinford and Stourbridge together contained about 182 families, whereas now they contain about 200.
This town has two fairs in the year, for horses and other cattle of all sorts; viz. March the 29th and September the 8th. The weekly market is on Friday. It is 133 miles distant from London, 14 miles from Birmingham, 6 miles from Kidderminster, 5 miles from Dudley, 10 miles from Bromsgrove, and 21 miles from Worcester.
In the town and neighbourhood are many manufactures, and mines of coals almost inexhaustible. Crystal glass has long been made here. Iron is manufactured from the pig to very minute articles.
The glass house pot-clay is almost peculiar to his neighbourhood. It is inferior to hardly any in Europe, and far superior to any found in England for crucibles, or pots used for melting materials for glass. Indeed it has this property, that a pot made of it will melt almost any thing into glass with proper heat, and provided it be fluxed with proper salts.
Near this town, and in the parish of Old Swinford, is a famous charity-school, founded by Thomas Foley, Esq. The revenues are about 800l. a year; and since its first institution, upwards of a thousand boys have been fed, clothed, and apprenticed.
[From Perspective Views of the Market Towns within the County of Worcestershire, Drawn and Engraved by Thomas Sanders, Engraver and Drawing Master]