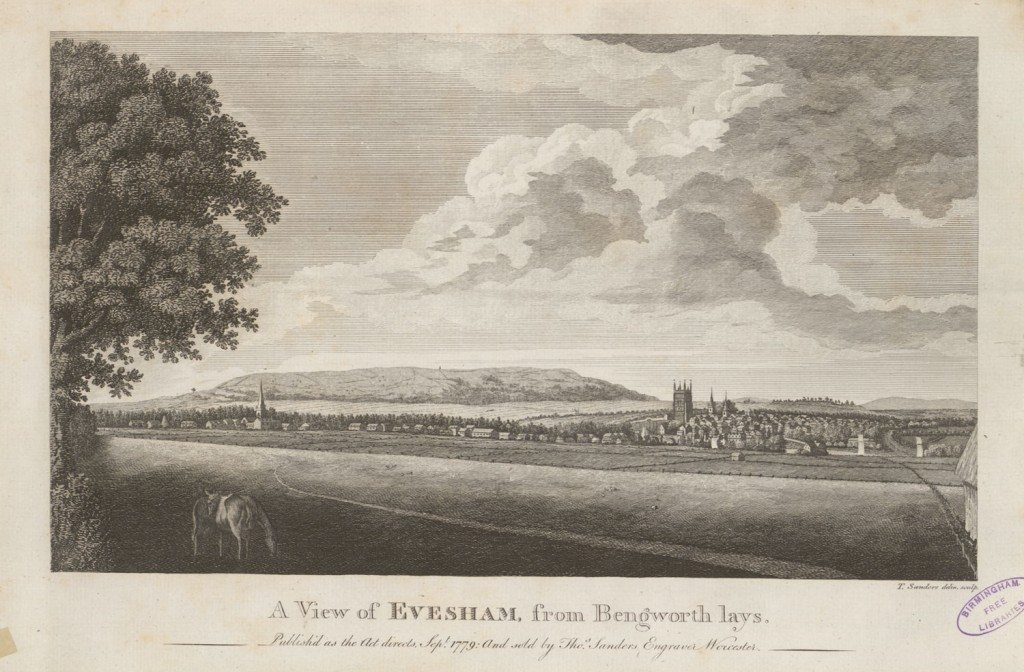 A View of Evesham, from Bengworth Lays
1770 - 1790 (c.)
EVESHAM; Or, EOVESHAM;
So called from Eoves, a Swine Herd of St. Egwin.
THIS town may date its origin from the famous abbey, dedicated to the Virgin Mary, founded here about the 709, by Egwin the third Bishop of Worcester, before which it was famous only as a place of solitude and retirement; the abbey grew so rapidly, that in 714 it possessed many manors and towns, from 941 to 960 the secular canons were in possession: afterwards it became a mitred abbey, and possessed by the Benedictines: not long before the dissolution of religious houses, it was one of the largest and most stately abbeys in the kingdom, comprehending within its limits two parish churches; there belonged to it 79 religious persons and 65 servants. At the dissolution it was valued at 1133l. 12s. 9d. according to Dugdale; and according to Speed 1268l. 9s. 9d. a year. The arms were azure, a chain between three mitres, argent.
After the foundation of the abbey, the town grew in proportion, and two bailiffs governed it under the abbot in civil cases; King James the First, at the request of his son Prince Henry, granted a charter and incorporated the townsmen, by the stile of mayor, high steward, recorder, chamberlain, seven aldermen (of whom four are justice of the peace) twelve capital burgesses, and twenty-four assistants: they hold sessions and try felonies and treasons: the town of Bengeworth is incorporated with Evesham, and both constitute one borough.
It returns two members to parliament, has a weekly market on Monday, and three fairs in the year; February the second, Whit-Monday, and September the tenth; it is 95 measured miles from London, and 16 Worcester.
The parish of All Saints, contains 253 families, and 1052 individuals. St. Lawrence contains 190 families and 796 individuals.
The famous battle of Evesham was fought, August 5, 1265, a little to the North of the town, where the power of Simon de Montfort and the barons was broke, and they [were] totally defeated by Prince Edward, afterwards King Edward the First.
The town has some manufacture in stockings and woollen caps, but the chief trade is garden stuff, which they carry to very distant markets, and the return in money to this town is supposed to be above 10,000l. a year.
[From Perspective Views of the Market Towns within the County of Worcestershire, Drawn and Engraved by Thomas Sanders, Engraver and Drawing Master]