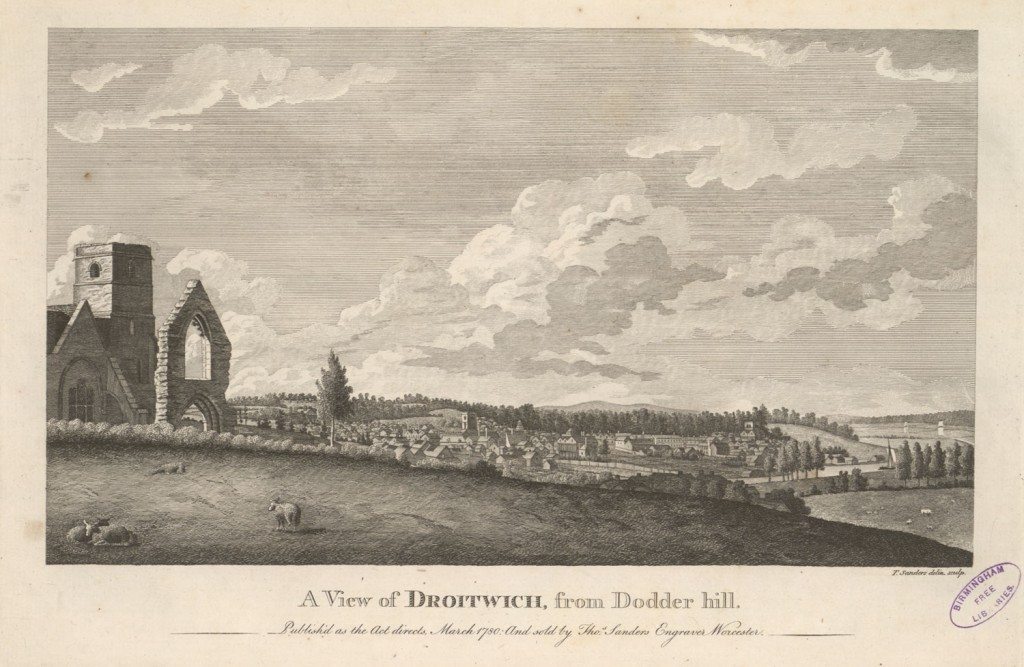 A View of Droitwich, from Dodder hill
1770 - 1790 (c.)
DROITWICH,
IS a place of great antiquity, probably it was known to the Romans, but certainly in the Saxon times, long before the Norman conquest: It was a populous and rich town.
In the survey made by William the first, we find it recorded as a place of consequence; its first charter was granted by kind John, and confirmed by several succeeding kings; but the charter under which the borough is governed at present, was granted 22nd James 1st. Two bailiffs are chosen annually, a recorder, town clerk; and two members of parliament are elected according to this charter; a court of record held every Thursday; and a market every Friday. There are three fairs in the year, the first on Friday in the Easter week, the second on the 22nd of September, and the third on St. Thomas's Day. It is 117 miles from London, 7 miles from Worcester, and 5 miles from Bromsgrove.
This town has always been famous for its Salt Pits; mention is made of them in the year 816, and again in 956.
In Henry the 7th's time there were five salt pits in Wich, in three different places, Upwick, Middlewick, and Netherwick, about the year 1724. The profits arising to the owners of the brine was near 5000l. a year, which being divided into above 500 shares, enabled many families to live comfortably; but in the succeeding year the pits being sunk deeper, such a vast quantity of brine rose to the surface, that it is now become of no value, and a great proportion runs useless into the river.
The quantity of salt made here is so great, that at 3s. 4d. a bushel, this little town pays in duty to the kind near 80,000l. a year.
The town contains part of five parishes, St. Nicholas, St. Andrew, St. Mary Witton, St. Peter, and St. Augustin or Doderhill. Though two of the churches are destroyed, and the parish of St. Mary Witton is united to St. Andrew, the town numbers about 1200 inhabitants.
[From Perspective Views of the Market Towns within the County of Worcestershire, Drawn and Engraved by Thomas Sanders, Engraver and Drawing Master]